STREAM C.
The Stream C is a compact array solution for real-time 3D mapping of underground utilities and features. It has long been a dream of utility surveyors to map under footpaths and roads with minimal traffic management. This dream is now achievable with the system's high productivity rate.
STREAM C DETAILS.
The Stream-C can detect pipes and cables in both directions with a single pass of the GPR. This is due to the system's increased level of accuracy provided by a massive antenna array.
Daily use of the Stream-C is aided by features including electronic ride height adjustment, options to tow manually or with a small vehicle and a motor assisted drive wheel.
The system has been designed to cover survey areas quickly, this is achievable because the system operates with 34 separate channels, enabling the best quality results possible. The solution includes double polarized (VV and HH) antennas, which enables the Stream-C to travel in a single direction but collect the data for both the longitudinal and transversal pipes detection. When towed, the system can obtain data up to a maximum speed of 5 Km/h.
STREAM C SPECIFICATION.
Data Logger – Panasonic CF19 PC or similar
Number of Channels – 32 (23VV – 9HH)
Antenna Frequency – 600 MHz
Antenna Polarization – Horizontal (HH) and Vertical (VV)
Positioning – Integrated encoder, GPS or Total Station (not included)
Collection Speed – Up to 6km/h (3.7 mph)
Radar Power Consumption – 60 W
Radar Power Supply – SLA Battery 12VDC 24 ah
Antenna Footprint – 120 x 57 cm
Weight (full configuration) – Basic configuration – 75 kg, Advanced configuration – 95 kg
Survey Path Width – 96 cm
Environment – IP65
Certification – EC, FCC, IC
WATCH

THE OFFICIAL PRODUCT VIDEO.
Stream UP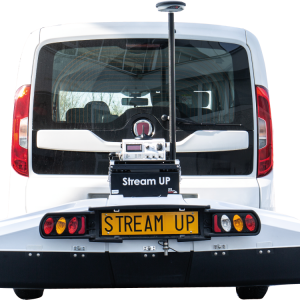 Stream UP is a multi-channel, multi-frequency, double-polarized and lightweight GPR system
VIEW PRODUCT
Hi-MOD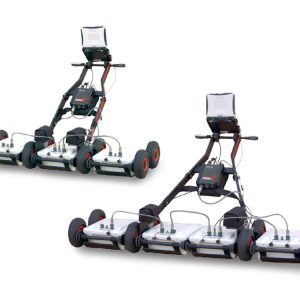 A specialised ground penetrating radar (GPR) system, RIS MF Hi-Mod can investigate large areas, providing a 3D view of the subsoil
VIEW PRODUCT