Stream UP Launch
12th June 2020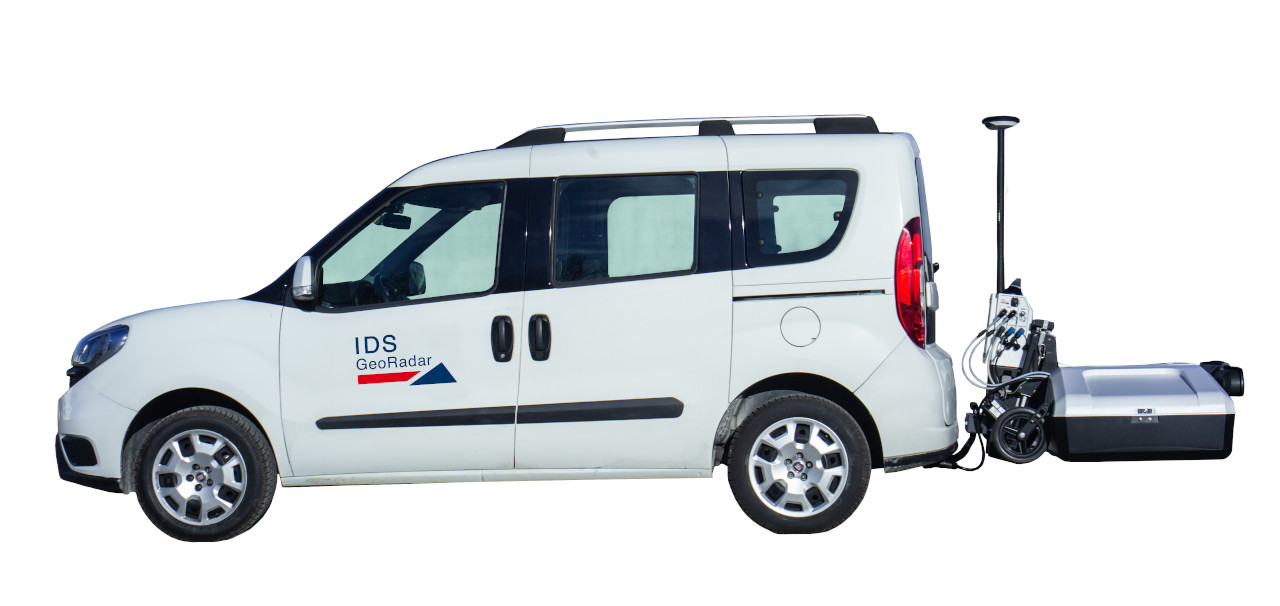 NEW PRODUCT LAUNCH – April 2020
IDS GeoRadar STREAM UP
IDS GeoRadar IQ MAPS Software
IDS GeoRadar announces latest Ground Penetrating Radar Product and Post Processing Software
Stream UP increases qualified accuracy of the entire Stream family
This state-of-the-art piece of Ground Penetrating Radar technology is multi-channel, multi-frequency, double-
polarized and lightweight. This system is dedicated to utility mapping across extensive areas which facilitates the
whole process before, during and after data acquisition.
Game changing way to capture underground utility assets
The Stream UP is easy to assemble directly on site with as little as two people. To transport it and assemble it, with
just one person is also an option. Furthermore, the total absence of contact with the ground dramatically reduces
the stress on the equipment and consequently, the relentless maintenance often involved with these systems.
The Stream UP has an acquisition speed up to 150 km/h (with a suggested acquisition speed of 60 km/h) and the
data quality is higher than ever, with the new control unit - Embedded Digital Antenna Driver – Stream (eDAD-S).
The new control unit which includes the dense array antennas and the dynamic stacking, means that the data quality
is excellently maintained even at high speed. The system is compact, keeping the IDS GeoRadar dual polarized
antenna concept.
"Stream UP is the cutting-edge product for extensive utility mapping. Nothing has existed like this before," said IDS
GeoRadar President Alberto Bicci. "The innovative suspended modular frame is safer than ever thanks to shell
structure and embedded anti-collision system. Furthermore, Stream UP is compliant with traffic regulations and there
is no need of escort vehicles."
New frontier in GPR data analysis
IQMaps enables the end user to perform a quick, step by step, data analysis with the help of customisable processing
and analysis tools. This new piece of software is now available for both for skilled and non-skilled users for utility
mapping of large size projects, archaeological and environmental surveys.
"For our clients, their project managers and data processors, the new IQMaps software will enable them to transform
vast amounts of complex data faster than ever before," said Colin Tickle, Drilline Managing Director, a beta tester of
the new software.
"We know IDS GeoRadar has a high level of commitment to research and innovation, which is why we are confident
that this new system and software is at the forefront of modern utility mapping and data processing technology."
IQMaps is available to use with all the IDS GeoRadar Stream range. It allows you to easily process, analyse and
inspect data from dense array radar systems. The new software provides a smart target management for producing
the output. With its high responsiveness, IQMaps offers a tailored user interface for specific application with 3D
visualisation.
"IQMaps must be considered as a game changer," said Davide Morandi, IDS GeoRadar Director GPR Product
Manager, who followed the software evolution. "I'm delighted to present this software to our customers knowing
that it has no close competitors in terms of data visualisation speed, usability and data analysis."
IQMaps, the latest Ground Penetrating Radar (GPR) data analysis software that dramatically improves productivity
and provides real time processing and visualisation.