Picote Miller Range
PICOTE
MAXI MILLER POWER PLUS
The Maxi Miller Power Plus system is a new, powerful and efficient multi-use trenchless system from Picote. With its added power, it is perfect for faster lateral reinstatements, drain cleaning and efficient collapsed liner removal.
This machine gives even more efficiency with extra power for tough concrete, slurry and rock removal.
The Maxi Power Plus Provides double the power compared to the regular Maxi Miller (3kw vs. 1.5kw).
PICOTE
MAXI MILLER POWER PLUS

DETAILS.

The Maxi Miller is designed for large high-performance drain cleaning. It provides nearly double the power of a Maxi Miller and is designed for drain cleaning, descaling, and root removal in DN70 to 300, or 3-12 inch pipes.

It can also be used for concrete, slurry and rock removal in DN150 to 250, or 6 to 10 inch pipes. It has a range of 18 metres, or 59 feet, but that can be extended by as much as 22 metres, or 72 feet by using up to 2 shaft extensions.

The Picote Maxi Power Plus has unique power requirements and must be run with the Picote Generator which is a 400 volt, 3 phase, 30 amp unit.
PICOTE
MAXI MILLER POWER PLUS

SPECIFICATION.

Descaling: DN 70 – 250 (3-10")

Root Cutting: DN 70 – 250 (3-10")

Concrete Removal: DN 100 – 150 (4-6")
Specifications
Shaft Diameter: 12m (1/2")
Range 30 m (100ft) + ext. 10 m (33ft)
Pipe Diameters: DN70 – 250 (3-10")
Pipe size: 6" – 12" (3" & 4" inside straight pipe
only).
Power Source:
Europe – 220/230V, 16 Amp
UK/N. America: 110/120V, 30 Amp
Weight 89kg (196lbs)
Electric motor & safety clutch / 3-phase 16amp
400v / 3kw / 1500rpm
Features: Control box can be detached and taken closer to access point (16.4' cord) allowing easy access to control box (Emergency stop, speed control).
WATCH

THE OFFICIAL PRODUCT VIDEO.
Grinding Chains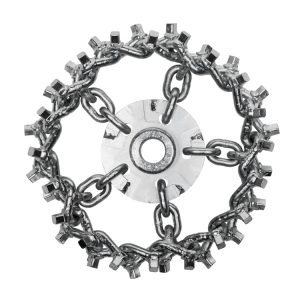 These chains are designed to make fast work of pipe cleaning and blockages.
VIEW PRODUCT
Drill Heads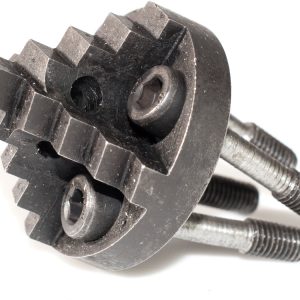 Special Drill Heads for the Mini Cleaner can be used to create initial CIPP opening, unblock pipes and more
VIEW PRODUCT